There's a portfolio I still have, pictures of custom cabinets and furniture made when I was a cabinetmaker. Some of it published in shelter magazines or books on design. A reference in the "Biennial Design Book, 1979". Detritus.
I worked as a benchman in high-end, residential custom shops and as a foreman in high-volume, commercial shops. I had my own shop, was a project manager and supervisor in architectural woodwork offices, had a space in a woodworking guild, even did antique restoration for a while. I've known people trying to make it (and sometimes succeeding) in the crafts world. I know woodworking is not an easy way to make money. An expected (or hoped for) standard of living, the demands for painstaking execution and flawless surfaces, human fallibility, low funds and high standards, the inevitable tick of the clock. It's hard to get help - the supply of skilled labor is limited and getting smaller - even harder to pay decent wages (cost of living in and around NYC is pretty high). So looking at the pictures in the portfolio brings back as many painful memories of stress as pleasant feelings of accomplishment.
And, really, how much of that stuff still exists? In high-end NY design, it's commonplace for a residence to be completely redone each time it changes hands, no matter what the condition of the existing fitments and built-ins. The new owners want to make their own statement with the space, and if they don't, their designer surely does. Inevitably, your work becomes the "before" picture in the before/after comparison. Not that it matters. It wasn't actually meant to be permanent, just perfect. And photogenic. Definitely photogenic. That "beauty" shot in Architectural Digest is pretty damn important. Careers are made on things like that. At least, that's the way certain people acted. But sometimes things get
extreme
. Here's one particularly hair-raising example.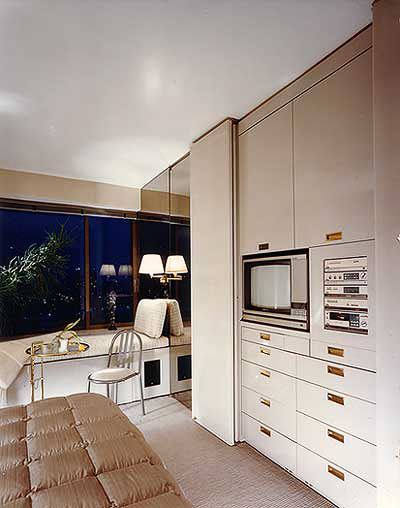 There's an apartment on Park Avenue, which became famous, for a time in the 70's, because it was the residence Richard Nixon wanted to move into after his presidency. "Wanted to" is the operative phrase here as the building's co-op board was so afraid of the security arrangements a former president would require, and the possible attendant disruption to their lives, that they voted not to allow him to buy the residence. This was reported in various newspapers of the day and raised a little controversy, which soon died down. But the apartment, itself, became somewhat notorious, so when it was sold the price was high, maybe 3 million dollars, which, at the time, was a lot of money.
It was approximately a 4500 square foot floorplan, and about 1500 square feet - the "public" living and dining rooms - had a white marble floor of 24" x 24" x 1" thick tiles. In addition, the entry floor was a marvelous, intricate mosaic of black and white marble. It would cost a fortune to get something like that made now. It probably cost a fortune when it was done, however many years ago.
The owners hired a designer, S., to "do" their new home, while they lived, for the duration of the construction work, at the Carlyle Hotel (nice temporary digs!). S. often used a contracting company I worked for (I was the shop foreman) so I was invited, along with perhaps 10 different subcontractors of various trades, to "walk" the apartment with her.
That's how S. designed. She didn't use blueprints. She would march through an apartment, point at the ceiling, announce "6 high-hats here", or wave at a wall, "knock that down". If a better picture of what she wanted was needed, she would have one of her two assistants draw a full-size illustration on the wall. Cabinets, for instance, were done this way. Then the responsible trade would provide working drawings based on her ideas, she'd edit or approve, and that's how the plans would be created.
So it was that day, S.'s highheels clicking on the marble, each imperious gesture generating truckloads of work, the trailing retinue of subcontractors scribbling furiously in their notebooks. And when we came to the end of the walk she turned to Ed, my boss, the general contractor, and said, "One more thing. I want you to take this floor out. It's much too cold. I want a white oak floor, rift-cut, herring-bone pattern. I'll give you the stain later."
At this point you could hear about 10 pencil points snapping as the subs did shocked double-takes. Ed flinched, but imperceptibly. He was a cool guy.
"S.", he replied, remaining calm, "are you sure? This floor is priceless. And getting it out of here would require jackhammers. And I have a funny feeling that the people in this building, this particular building, might be more than annoyed at the amount of noise that jackhammers make. I don't think we can do it."
"Ed, you'll do it if you want this job." S. could be very persuasive when she wanted to be.
Lounging against a wall was Ernie, our truckdriver. He was a friendly giant, 6' 5" tall, maybe 300 pounds, sometimes used for demolition projects, sometimes to just lift things. An unskilled but dependable guy.
Ed called to him. "Ernie, get a sledgehammer and a cold chisel, let's see what we've got." Ernie returned, tools in hand, and was pointed to one marble tile, in the corner. "Take it out.", Ed directed.
And Ernie started slamming. Marble, when attacked like that, rings, a high-pitched, bell-like sound that echoed through the apartment. Working hard, on his knees, ripping the sledgehammer through the air, Ernie finally demolished one piece. It took a while. Ernie was sweating. Ed could see this wasn't going to work. But he had an idea.
"S., you don't care how we do this, you just want a wood floor, right? So we'll cover the marble. We'll remove all the base molding, make a substructure out of firring strips that we'll glue down, go over that with underlayment, lay the oak floor, then reinstall the base molding. How does that sound?"
"That's fine, Ed", S replied, waving a bejeweled hand as she left. "You're so ingenious. That's why I use you."
Needless to say this was a fairly costly project. Just removing the base molding, 9" high, complex and solidly nailed in 50 years before, without damaging it (too much), was pretty hairy. But Ed did as he promised. My part in all of this was to build a "traditional" style library, paint-grade (green), with some closed cabinets to house AV equipment, arched shelving, radiator enclosure, mirrored counter area, straightforward stuff (shown at left.) All in all, it took approximately 6 months to complete the renovation.
And the new oak floor was, indeed, beautiful.
About two months later I returned to take portfolio pictures of the library. I entered, and was shocked to see that the apartment looked exactly as we had left it. Empty.
No one had moved in.
I began the photography when a real estate broker arrived, prospective buyer in tow. From him I learned that the original buyer had decided that he didn't want the apartment, after all. A townhouse around the corner was more to his wife's liking, so he bought that, moved in there, and was in the process of selling this apartment. The broker was showing it. And, as he was leaving I heard him proclaim "...and underneath this oak floor is the most amazing marble...".
I'm told removing the oak floor was a bigger job than installing it.