I couldn't have been more wrong. He was utterly docile.
Jessie was working as a receptionist at a vet's office then. So we took him there. They patched him up and assured us he'd be fine.
"But, " the vet advised, "He can't be out on the streets now. Not with the bandages. He's got to stay inside for a while." And that's how Gilbert joined us. As Karen said, "he walked up the stairs and into our hearts."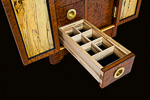 He was with us for 15 years. It's not like he was perfect. He urinated in the wrong places when he was young. Caterwauled at night when he was old. But he had this uncanny ability to insinuate himself into your arms, into your heart, making himself comfortable and making you comfortable, too. He didn't demand attention. He just seems to have expected it, and was quite content to wait if it were not immediately forthcoming. Once, when we had to board the cats for a few weeks, we returned to find Gilbert sitting on the owner's lap. Even they remarked how friendly he was, how ingratiating. They kept the other boarded cats in cages but Gilbert - they had let him roam their house, living with them, sharing their easy chairs and couches. He was so relaxed. At ease.