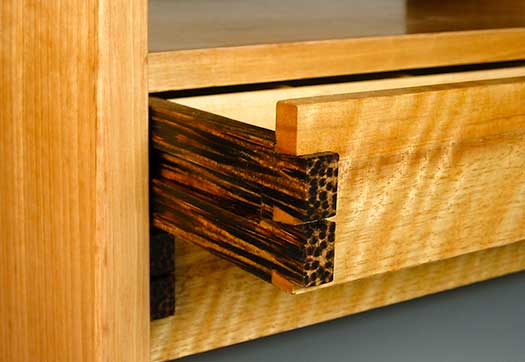 One stop to be made before going home. Pick up a check for a private job I had just installed in Peter Cooper Village. Done in my spare time to earn some extra cash, a child's room. Loft bed, ladder, storage cabinets, desk, that kind of thing. I don't remember now if the finish was wood, or laminate, or paint-grade. I had completed the installation the night before. The couple who owned the apartment had been away and I had yet to find out if they liked the job.
Loved it. When I came to the door they were both there, excited hands outstretched, faces beaming. How beautiful it all was, how wonderful I was. What craft! What workmanship! It's fabulous! We're delighted! Would you please stay for dinner? We want our friends and neighbors to meet you!
Whoa. Asshole to all-star in 5 short minutes. My ears were still ringing from Ed's sweet nothings and here I was being nominated for sainthood. There wasn't much to say but I was thinking...
Sometimes, things are very funny.
This little chest is mostly anigre. The drawer fronts are quartered and have that beautiful iridescent curl, chatoyance. The drawer sides are black palm so I could show its weird spotted end grain by using through dovetails, left rather proud. The handles are holly, mortised and tenoned into the fronts - very small floating tenons.
And there are errors. Not obvious, but places where the lines aren't perfect, the surface not impeccable, the finish not flawless. You build something, you know it very well.
The guy who doesn't make mistakes doesn't make anything.

Yeah. Bud told me that.