Charity isn't about money.
I had asked Karen about the phrase "Faith, Hope and Charity". Those words had been running through my thoughts for days, while working on these boxes. She informed me that Faith, Hope and Charity are the three great theological virtues that the New Testament calls for in Christians. According to the Apostle Paul, "Now abideth faith, hope, charity, these three; but the greatest of these is charity." And there are references to a group of Christian matyred saints, but then the trail grows dim, grim and murky. Two groups of saints, two different days of celebration. More theoretical speculation; less simple explication.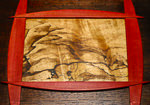 As you can see, I'm not Christian. My New Testament knowledge amounts to slim and nothing. It's all just words and terms and phrases. Names (holy names?) floating by. Notions peripheral. Someone else's beliefs. But, as I worked, the words kept slipping into my usual workshop reverie. Planing the sycamore, nothing can be finer – faith, what is it? Chopping the mortises in anigre – a really sharp chisel snap-clicks the grain cleanly – hope, do I have hope? Faith in what? Hope for what? I won't bore you with the details.